IN HONOUR AND LASTING MEMORY OF THE MEN OF THIS PARISH WHO FELL IN THE GREAT WAR 1914-1918 AND THE WORLD WAR 1939-1945
The following people are listed on the memorial. Full details of all war dead listed below and their corresponding war memorials may be found by visiting the Commonwealth War Graves Commission website www.cwgc.org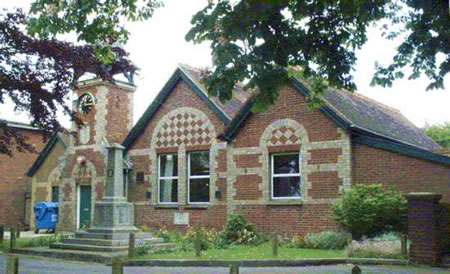 GREAT WAR 1914-1918

CAPT.

BUSS B.
E.K. REG.
BUSS, BENJAMIN. Date of Death: 04/11/1918. Cemetry: HORSMONDEN (ST. MARGARET) CHURCHYARD, SOUTH PART. CWGC

2nd Lt.

BUSS T.
E.K. REG.
BUSS, THOMAS WESTON. DoD: 09/04/1917. Unit Text: 5th Bn. attd. 6th Bn. Cemetery: ARRAS MEMORIAL. CWGC

2nd Lt.

TOMPSETT N.
N.Z.E.F
TOMPSETT, NORMAN. DoD: 12/10/1917. Additional information: Son of Benjamin Tompsett, of "Castlemaine," Hollington Park, St. Leonards-on-Sea. Cemetery: TYNE COT MEMORIAL, N.Z. CWGC

SGT.

COUCHMAN F.
E.K. REG.
COUCHMAN FW. DoD: 03/10/1917 Age: 32. Additional information: Son of George and Ellen Couchman, of Horsmonden, Kent; husband of Eva G. Couchman, of Glebe House, Burwash, Sussex. Cemetry: WINDMILL BRITISH CEMETERY, MONCHY-LE-PREUX. CWGC

CPL.

ASHLEY A.
D.S.C.
ASHLEY, ALBERT.

CPL.

DENMAN C.
BEDS REG.
DENMAN, CHARLES. DoD: 05/09/1916. Age: 26. Unit Text: 1st Bn. Additional information: Honoured on the Potten End War Memorial, Hertfordshire. Cemetry: CORBIE COMMUNAL CEMETERY EXTENSION. CWGC

CPL.

GOODSELL P.
R.SX. REG.
GOODSELL, PERCY. DoD: 10/05/1915. Age: 21. Additional information: Son of Thomas and Annie Goodsell, of "Streatley" Loose Rd., Maidstone. Born Higham, Salehurst, Robertsbridge, Sussex. Cemetry: LONGUENESSE (ST. OMER) SOUVENIR CEMETERY. CWGC

CPL.

MAYNARD A.
E.K. REG.
MAYNARD, ALBERT. DoD: 04/10/1917. Age: 34. Unit Text: 1st Bn. Additional information: Son of Mrs. Elizabeth Maynard, of East View, Horsmonden. Cemetry: LOOS BRITISH CEMETERY. CWGC

PTE.

BARROW J.
E.K. REG.
BARROW J. DoD: 20/08/1916. Unit Text: 8th Bn. Cemetry: DIVE COPSE BRITISH CEMETERY, SAILLY-LE-SEC. CWGC

PTE.

BUTCHERS W.
LOND. REG.
BUTCHERS, WILLIAM. DoD: 10/09/1916. Unit Text: 19th Bn. Additional information: Son of Frederick and Mary Ann Butchers, of Elphicks, Horsmonden. Cemetry: CORBIE COMMUNAL CEMETERY EXTENSION. CWGC

PTE.

BUTCHERS G.
R.W.S REG.
BUTCHERS, GEORGE. DoD: 18/08/1917. Unit Text: 10th Bn. Additional information: Killed in an enemy air raid. Cemetery: BERTENACRE MILITARY CEMETERY, FLETRE. CWGC

PTE.

BUTCHERS T.H.
R.F. REG.
BUTCHERS, HORACE THOMAS.

PTE.

BUTCHERS A.J.
R.W.S REG.
BUTCHERS, ALBERT JOHN. DoD: 25/09/1917. Age: 20. Unit Text: 1st Bn. Additional information: Son of John and Jane Butchers, of New Cottages, Small Bridge, Horsmonden. Cemetry: TYNE COT MEMORIAL. CWGC

PTE.

BOTTEN C.H
E.K. REG.
BOTTEN C H. DoD: 11/02/1917. Age: 22. Unit Text: (1378). 1st/5th Bn. Additional information: Son of Charles and Jessie Botten, of The Warren, Horsmonden. Cemetry. Cemetery: AMARA WAR CEMETERY. CWGC

PTE.

EXCELL S.
E.K.REG.
EXCELL, SIDNEY EDWARD. DoD: 04/08/1916. Unit Text: 6th Bn. THIEPVAL MEMORIAL. CWGC

PTE.

EXCELL G.
E.K.REG.
EXCELL, GEORGE HUMPHREY. DoD: 03/08/1916. Unit Text: 6th Bn. Cemetery: THIEPVAL MEMORIAL. CWGC *Note: There are 2 G Excells listed of the E.K.REG but this one seems more likely.

PTE.

FIELDER F.
R.W.S. REG.
FIELDER, FREDERICK. DoD: 21/08/1916. Age: 24. Additional information: (Served as SELBY). Son of John and Leonora Ann Fielder, of 6, Council Houses, Lamberhurst Rd., Horsmonden. Cemetery: THIEPVAL MEMORIAL. CWGC

PTE.

GOODSELL H.G.
R.SX. REG.
GOODSELL, HERBERT GEORGE

PTE.

GURR H.
SUFF. REG.
GURR, HARRY. DoD: 24/11/1917. Age: 30. Unit Text: 12th Bn. Additional information: Son of Harry and Nellie Gurr, of Penfield Farm, Seal, Sevenoaks; husband of Alice Elizabeth Gurr, of Croucher's Farm, Horsmonden. Cemetery: CAMBRAI MEMORIAL, LOUVERVAL. CWGC

PTE.

HODGSKIN W.C.
E.K. REG.
HODGKIN, WILLIAM (sic). DoD: 01/05/1917. Age: 28. Unit Text: 6th Bn. Additional information: Son of Mrs. Hodgkin, of School House Cottages, Horsmonden. Cemetery: ARRAS MEMORIAL. CWGC

PTE.

JUDGE R.C.
R.W.S. REG.
JUDGE R C. DoD: 23/08/1915. Unit Text: 1st Bn. Cemetery: HAMBURG CEMETERY. CWGC

PTE.

JEFFREY W.H.
S.H. REG
JEFFREY, WILLIAM. DoD: 21/04/1917. Unit Text: 1st Bn. Cemetry: BASRA MEMORIAL. CWGC

PTE.

LATT R.J.
R.W.S REG

PTE.

LAMBERT E.
E.S. REG.
LAMBERT, EDWIN. DoD: 22/10/1918. Age: 38. Unit Text: 9th Bn. Additional information: Son of Thomas and Catherine Lambert, of Horsmonden, Kent; husband of Florence Lambert, of Rose Bank, Hawkhurst, Kent. Parish Clerk of Horsmonden. Cemetry: SARRALBE MILITARY CEMETERY. CWGC Information

PTE.

MARLOW A.
E.K. REG
MARLOWE, A F J. DoD: 14/03/1919. Secondary Regiment: Labour Corps. Secondary Unit Text: transf. to (Lce. Cpl. 485659). Cemetery: HALE (ST. MARY) CHURCHYARD. CWGC

PTE.

MAY W.
S.L.I. REG
2 found on CWGC

PTE.

NOBLE G.
R.W.K. REG.
NOBLE, GEORGE. CWGC

PTE.

ROBERTS S.C.
R.S.F. REG
ROBERTS, SIDNEY. DoD: 19/09/1918. Age: 28. Unit Text: 8th Bn. Additional information: Son of Charles and Harriett Roberts, of Station Cottage, Horsmonden. Cemetery: SARIGOL MILITARY CEMETERY, KRISTON. CWGC

PTE.

REED A.J.
MIDDX. REG

RFN.

SPRINGETT F.W.
K.R.R
SPRINGETT F W. DoD: 26/08/1918. Age: 19. Additional information: Son of Stephen John Springett, of Jabors Cottage, Horsmonden. Cemetery: GRAND-SERAUCOURT BRITISH CEMETERY. CWGC

PTE.

SPRINGETT W.S.
LOND. REG.
SPRINGETT, WALTER STEPHEN. DoD: 05/10/1916. Age: 23. Unit Text: 13th Kensington Bn. Additional information: Son of Stephen John and Eliza Springett, of Tabor's Cottage, Horsmonden, Kent. Cemetery: GUARDS' CEMETERY, LESBOEUFS. CWGC

PTE.

SPRINGETT E.
R.W.K. REG.
SPRINGETT E. DoD: 18/04/1915. Unit Text: 1st Bn. Cemetery: OOSTTAVERNE WOOD CEMETERY. CWGC

PTE.

SMITH P.G.
BEDS. REG.

PTE.

SMITH W.
E.K. REG.

PTE.

SMITH E.A.
QS.W. REG.

PTE.

SAVAGE A.E.
R.F. REG.
SAVAGE A E. DoD: 04/10/1916. Unit Text: 32nd Bn.Cemetery: A.I.F. BURIAL GROUND, FLERS. CWGC

PTE.

SAUNDERS A.
MIDDX. REG.

PTE.

SHARP W.G.
R.W.K. REG.

PTE.

TRIVET W.B.
R.F. REG.
TRIVETT, WILLIE BEN. DoD: 30/04/1917. Additional information: Son of Tom and Elizabeth Trivett, of Kentisbeare, Devon; husband of Minnie Trivett, of 2, Victoria Place, West Cross, Tenterden, Kent. Age: 32. Unit Text: 7th Bn. Cemetery: ETAPLES MILITARY CEMETERY. CWGC

PTE.

TURK A.F.
N.STFFS. REG.
TURK, ARTHUR FREDERICK. DoD: 30/05/1918. Age: 30. Unit Text: 8th Bn. Additional information: Son of Frederick and Mary A. Turk, of Tomsetts Farm, Horsmonden. Cemetery: SOISSONS MEMORIAL. CWGC

PTE.

VIDLER R.
MIDDX. REG.
VIDLER R. DoD: 12/10/1917. Unit Text: 4th Bn. Cemetery: TYNE COT CEMETERY. CWGC

PTE.

WATTS T.
R.W.S. REG.
WATTS T R. DoD: 03/10/1914. Age: 28. Unit Text: 1st Bn. Additional information: Son of William and Phyllis Watts, of The Green, Horsmonden. Cemetery: ST. NAZAIRE (TOUTES-AIDES) CEMETERY. CWGC

PTE.

WOODGATE R.A.
R.W.K. REG.
WOODGATE, ROWLAND ALFRED. DoD: 24/10/1918. Age: 28. Unit Text: 2nd Bn. Additional information: Son of Alfred and Elizabeth Woodgate, of Capel Manor Gardens, Horsmonden. Cemetery: BAGHDAD (NORTH GATE) WAR CEMETERY. CWGC

PTE.

KING A.G.
R.F. REG.

WORLD WAR 1939-1945

LANCE CPL.

R.G. BURT
R.E.M.E.
BURT, RONALD GEORGE. DoD: 26/04/1944. Age: 22. Secondary Regiment: Royal Artillery.
Secondary Unit Text: attd. 244 Bty., 116 Field Regt. Additional information: Son of George and Rose Rebecca Burt, of Horsmonden. Cemetery: HORSMONDEN (ST. MARGARET) CHURCHYARD. CWGC

LIEUT.

J.E. COOKE
R.A.S.C.
COOKE, JOHN EDWARD. DoD: 27/06/1945. Age: 26. Secondary Regiment: Royal Indian Army Service Corps. Secondary Unit Text: attd. Additional information: Son of Edward Davis Cooke and Laura Gertrude Cooke; husband of Mabel Cooke, of Horsmonden. Cemetery: RAWALPINDI WAR CEMETERY. CWGC

SERJT.

H.F. CAREY
R.A.
CAREY, HERBERT FRANK. DoD: 26/10/1942. Age: 27. Additional information: Son of Godfrey Thomas Carey and Ada Carey; husband of Nora May Carey, of Horsmonden. Cemetery: EL ALAMEIN WAR CEMETERY. CWGC

GUNNER

A. DEAR
R.A.
DEAR, ARTHUR DOUGLAS. DoD: 13/12/1941. Age: 24. Unit Text: 438 Bty., 63 (4th Bn. The Queen's Royal Regt. [West Surrey]) Searchlight Regt. Additional information: Son of Richard and Amy Dear, of Horsmonden. Cemetery: HORSMONDEN (ST. MARGARET) CHURCHYARD. CWGC

LT. COMDR.

L. HOUGHTON
R.N.V.R.
HOUGHTON, LEONARD. DoD: 03/11/1940. Age: 42. Unit Text: H.M.S. Paragon. Cemetery: LOWESTOFT NAVAL MEMORIAL. CWGC

CAPT.

R.J. HOLDEN, M.C
OX. & BUCKS L.I.
HOLDEN, ROBERT JAMES. DoD: 18/09/1945. Age: 26. Awards: MC
Additional information: Son of Everard Osborne Holden and Agnes Josephine Holden, of Horsmonden. Cemetery: HORSMONDEN (ST. MARGARET) CHURCHYARD. CWGC

GUARDSMAN

H. HICKS
G.G.
HICKS, HARRY. DoD: 10/04/1945. Age: 19. Unit Text: 2nd Bn. Additional information: Son of Ernest Arthur and Elsie May Hicks, of Horsmonden. Cemetery: RHEINBERG WAR CEMETERY. CWGC

FLT/LT.

G.A.P. MANWARING
R.A.F.
MANWARING, GEORGE ARTHUR PATRICK. DoD: 29/05/1940. Age: 25. Rank: Flight Lieutenant (Pilot). Unit Text: 235 Sqdn. Additional information: Son of William and Mary May Manwaring, of Marden, Kent; husband of Zena Jesselin Manwaring, of Marden. Cemetery: SAGE WAR CEMETERY. CWGC

SAPPER

J.W. PROUD
R.E.
PROUD, JAMES WILLIAM. DoD: 03/08/1944. Age: 26. Unit Text: 1048 Port Operating Coy. Additional information: Son of James A. and Annie Proud, of Horsmonden. Cemetery: LA DELIVRANDE WAR CEMETERY, DOUVRES. CWGC

L.A.C.

A. WEEKS
R.A.F.
WEEKS, ALWYN EDITH. DoD: 28/07/1945. Cemetery: BRISTOL (GREENBANK) CEMETERY. CWGC

PILOT OFFICER

J. YOUNG
R.A.A.F.
YOUNG, JAMES. DoD: 6/06/1941. Rank: Pilot Officer (Pilot). Additional information: Son of George Young and of Millie Alice Emma Young, of Cranbrook. Cemetery: LONG LAWFORD (ST. JOHN'S CHAPEL) CHURCHYARD. CWGC

MJR.

J.H. COURTHOPE-POWELL
F.&F. REG.
POWELL, JOHN HENRY COURTHOPE. DoD: 19/07/1944. Age: 32. Unit Text: "A" Sqn. 2nd Fife and Forfar Yeomanry. Additional information: Son of Richard Henry and Barbara Frances Powell; husband of Helen Clare Powell, of Edinburgh. Cemetery: BANNEVILLE-LA-CAMPAGNE WAR CEMETERY. CWGC

Q.M.S.I.

G.YOUNG
SMALL ARMS SCHOOL CORPS.
YOUNG, GEORGE. DoD: 20/10/1941. Age: 52. Rank: Warrant Officer Class II (C.S.M. Instr.). Additional information: Husband of M. A. E. Young, of Cranbrook. Cemetry: HORSMONDEN (ST. MARGARET) CHURCHYARD. CWGC

FLT/LT.

R.J. HOLLAND
R.A.F.V.R.
HOLLAND, ROBERT JAMES HENRY. DoD: 02/04/1945. Age: 28. Unit Text: 80 Sqdn. Rank: Flight Lieutenant (Pilot). Additional information: Son of Robert and Kathleen Anne Holland; husband of Irene Holland, of Romford, Essex. Cemetery: HANOVER WAR CEMETERY. CWGC
KEY TO ENTRIES (GREAT WAR)

E.K REG.
The Buffs (East Kent Regiment)
N.Z.E.F
New Zealand Expeditionary Force
D.S.C
Duke of Strathclydes Company
BEDS REG.
Bedfordshire Regiment
R.SX. REG
Royal Sussex Regiment
LOND. REG.
London Regiment
R.W.S. REG.
The Queen's (Royal West Surrey Regiment)
SUFF. REG.
Suffolk Regiment
S.H REG.
Seaforth Highlander Regiment
S.L.I REG.
Somerset Light Infantry
K.R.R.
King's Royal Rifle Corps
QS.W. REG
The Queens (Royal West Surrey Regiment)
MIDDX. REG.
Middlesex Regiment
R.F. REG.
Royal Fusilier Regiment
N.STAFFS. REG.
North Staffordshire Regiment
R.W.K REG.
Queen's Own (Royal West Kent Regiment)
R.S.F REG.
Royal Scots Fusiliers

KEY TO ENTRIES (WORLD WAR II)

R.E.M.E.
Royal Electrical Mechanical Engineers
R.A.S.C.
Royal Army Service Corps
R.A.
Royal Artillery
R.N.V.R.
Royal Navy Volunteer Reserve
OX.&BUCKS L.I.
Oxfordshire & Buckinghamshire Light Infantry
G.G.
Grenadier Guards
R.A.F.
Royal Air Force
R.E.
Royal Engineers
R.A.A.F.
Royal Australian Air Force
F.&F. REG.
Fife & Forfar Yeomanry Regiment
R.A.F.V.R.
Royal Air Force Volunteer Force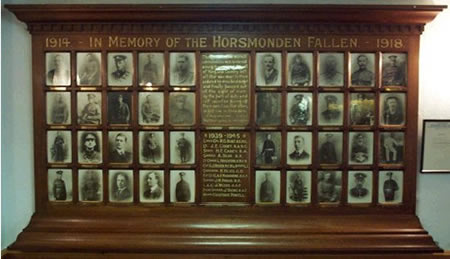 Snippets
Edwin J Lambert was a member of the Kent County Association of Change Ringers and appears in their KCACR Roll of Honour.
Details as follows: HORSMONDEN, ST MARGARET, Edwin J Lambert, Private, 9th Battalion, The East Surrey Regiment. Died while a Prisoner of War at Morhange on 22nd October 1918. Special Memorial, Saaralbe Military Cemetery, France.
GOODSELL Percival Thomas
[Listed as H.T.Goodsell on memorial] Corporal TF.2233, 1/5th Battalion The Royal Sussex Regiment 1st Division. Died of wounds 10th May 1915. Aged 21. Son of Thomas and Annie Goodsell of Higham, Salehurst later of Maidstone in Kent. Born in Robertsbridge and enlisted in Hastings. Included on Frant, Wadhurst and Horsmonden (Kent) War Memorials. Buried in Bethune Town Cemetery F. 80
Kent County Association of Change Ringers
Useful links
Imperial War Museum
Commonwealth War Graves Commission
The Royal British Legion
War Memorials Trust
Key compiled by Barry Groves. Photography by Neil Robins. With thanks to John Wybourn.