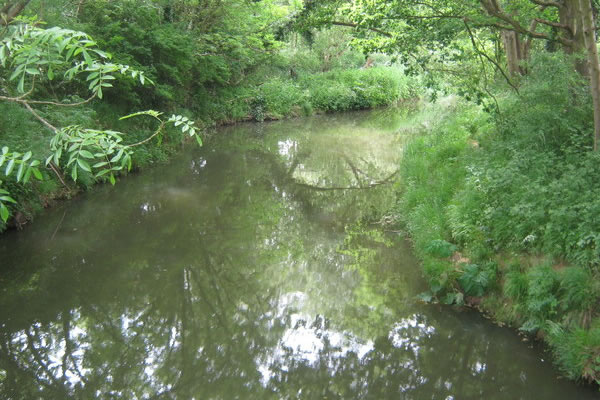 Our Eastern border and a tributary of the River Medway
It begins in Dunorlan Park in Tunbridge Wells and flows eastwards past Bayham Abbey and then through Lamberhurst.
Two miles downstream of Lamberhurst and just South of Spelmonden, the Tesie is joined by the River Bewl, where water from the Bewl Water reservor flows from.
The Teise bifurcates (splits into two parts), 1¼ miles south east of Claygate and 1¼ miles south west of the village of Marden, passing either side of a low ridge.
The Lesser Teise flows for about 4 miles before joining the River Beult at Hunton.
The Greater Teise, now carrying only minor quantities of water, flows under Gaffords Bridge at the northern extremities of the parish, and then on for about 5 miles to the River Medway at Twyford Bridge, upstream of Yalding, formerly the site of a double ford over both the Medway and Teise rivers. It passes to the west of Laddingford on the way to Yalding.
Drainage Improvement
Like many other rivers in southern England the River Teise was subject to a Land Drainage Improvement Scheme during the 1950s. The River Lesser Teise was widened, straightened and deepened from Horsmonden to the River Beult confluence. Hence it now carries much of the flow.
The Horsmonden section of the Greater Teise is upstream of where the Lesser Teise bifurcates, and the section downstream of Marden to its confluence with the River Medway was also 'improved'. A number of weirs were built at the time of this work, and still exist today. They split the flows between channels and some are also gauging stations.
Former meanders
Some of the former meanders of the Lesser Teise can still be seen today within retained areas of woodland on the eastern border of the Parish. These provide a record of the natural character of the River Teise, as does the 4 km bifurcated section of the Greater Teise, which was left largely untouched.
Whilst this work effectively drained the land, it has hugely impoverished the ecology of the river, and of course led to a huge loss of floodplain habitat along its course. A significant cost to river wildlife and fishing for the sake of a relatively tiny area of agriculture.
Sewage Works
Horsmonden Sewage Works sits beside the River Teise off Grovehurst Lane.
Fishing
The river is mostly swift flowing over gravel, with streamy sections alternating with deeper pools. Good summer flows are maintained by water discharged from Bewl Bridge reservoir. The Teise Anglers and Owners Association controls approximately eight miles of the river between Horsmonden, Goudhurst, Marden and Collier Street. The Association also controls a well stocked reservoir at Marden Beech. The fishing season is from 3rd April to 31st October inclusive.
Teise Anglers and Owners Association