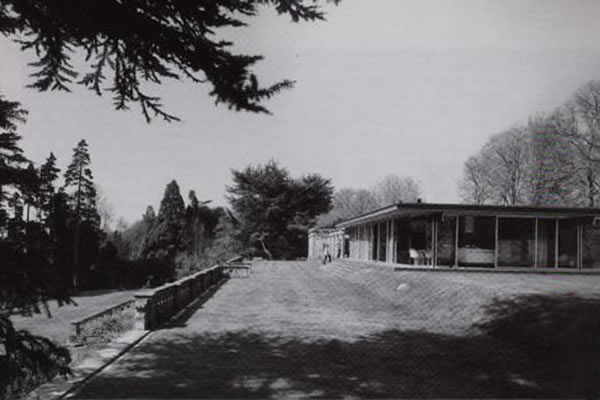 A state of the art house built on the site of the old Capel Manor
The New Capel Manor House (1970): Architecture
Secretary to (Sir) Edward Heath wanted, with his wife, a small modern labour-saving house. The house Manser built for them, Capel Manor House, was spectacularly sited and axially arranged upon the raised, arcaded podium of the ruined Victorian mansion, with pool to one side positioned within the trabeated Doric colonnade of the old conservatory. The frame of the house was constructed of two great steel bents running its length, each with four square-section steel columns and a 400mm (16in) I-section beam, the exposed steel-framed roof spanning between them and cantilevering out 1m (3ft, 4in) all around. Largely a skin building, the end columns of each bent and the steel beams themselves penetrate the envelope with the risk of providing cold bridges: the steel frame of the roof doing the same.
Capel Manor House is certainly striking, due as much to its siting as to its design. As The Architectural Review noted in 1971, "The clients are overwhelmingly enthusiastic about living in this house, but it has come as no surprise th them. They knew that they would have to adapt themselves to fit the formal concept of design and they were prepared to do so. The only concession – and this is a departure from its forerunners – is the use of bronze-tinted glazing backed up, where privacy is required, by open net curtaining… The real surprises were in the emotional bonuses which the unique hill-top penthouse has to offer.
Perhaps because he had developed a tradition within his own practice, progressing from timber to steel frames, Michael Manser's steel houses are no more than loose interpretations of Mies, Johnson and Ellwood. Indeed, his interests were, as has been noted, as much in Palladio and harmonic geometries as in recent precedents. Even so, the house he built for Pat Fletcher at Waterlooville, Hampshire, in 1967, is a rather obvious reference to Johnson's Wiley House: but then the Wiley House, built at New Canaan, Connecticut, in 1953 was a timber frame, not a steel one. Yet there is something in the paired columns and cantilevers of the Chaplin House near Colchester, Essex (1963), which  recalls the strong verticals and horizontals of Farnsworth House.
Extract from: The Modern Steel House in Europe and Australia
The Good Night (2007)
This film used Capel Manor as one of its locations. Click here for more information or see the trailer.
The Good Night, a romantic comedy, is the first movie written and directed by Jake Paltrow, and an adaptation of a 2006 French Film The Science of Sleep (La Science des reves). The film stars his sister Gwyneth Paltrow, Penélope Cruz, Martin Freeman, Danny DeVito, Simon Pegg and others. The movie takes place in London and New York, where a former pop star (Freeman) who now writes commercial jingles for a living experiences a mid-life crisis.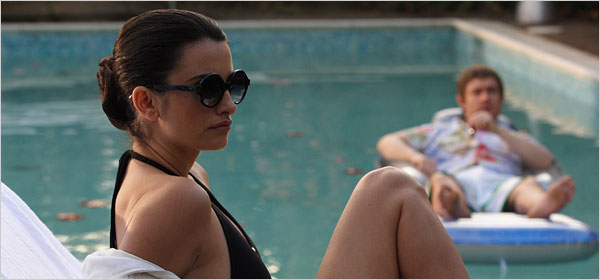 Capel Manor House: It's the one that I want…
The 1970s British house that David Heathcote – author of the Seventies House – covets most was designed by Michael Manser, a former president of the Royal Institute of British Architects, for John Howard MP, private secretary to Edward Heath. Conservative or not, Mr Howard went for a striking, low-slung smoked-glass rectangle standing on a plinth of coarse, engineering floor tiles. It overlooks the formal gardens of the ruined Capel Manor at Horsmonden, Kent, and offers stunning views of the surrounding countryside. "It has a wonderful quality of being out of time," says Mr Heathcote. "Neither new nor old. Just itself."