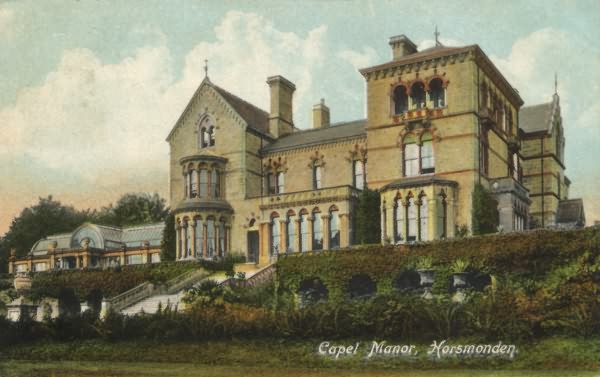 Former home of the Austen's
The main Austen residence had always been at Broadford until Capel Manor was built in 1860 by John Francis Austen. Capel Manor is an Italianate mansion house and located on land opposite Broadford accross the Goudhurst Road.
The mansion site also had stables, gardens and two gatehouses.
The Army used it in the war.
It was eventually demolished in 1966.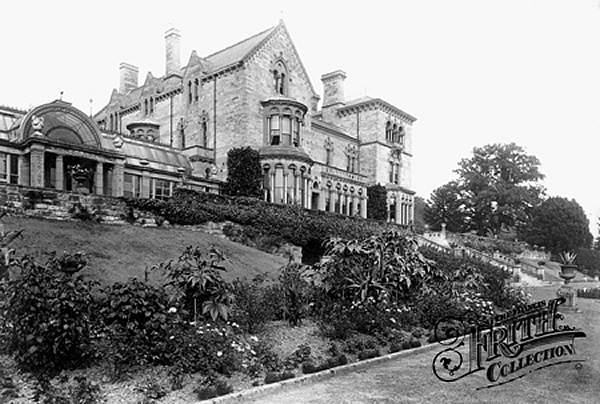 Eyewitness: Ken Jones, Evacuee 1942
"Another occurrence of considerable interest to me was the arrival in early 1942 and occupation of Capel Manor and grounds by a unit of the British Army, with much equipment, trucks, guns etc."
"I was told that they were there for training purposes, and not to let my 12 year old curiosity lead me anywhere near the gun training exercises being conducted."
"However, the carriage houses adjacent to the house and the courtyard became a workshop area where Army mechanics serviced and repaired gun tow trucks and other vehicles."
"The soldiers were very friendly, and I was able to see at close hand what they were doing, which maybe got me going later towards a career in engineering."
Eyewitness: Ken Jones, Evacuee September 1939 to June 1943 – Capel Manor Revisited
The following are recollections and impressions of the Manor from my time living there as an evacuee from Sept '39 to Jun '43, and a couple of visits (from Canada) back there in the early 60's.
Soon after settling in with my 'foster' parents, and integration into the Village School, then as any (usually inquisitive) school kid would do I spent a lot of time exploring and enjoying the manor property.
The area covered by the manor estate was quite varied and impressive.
From the terrace side of the manor facing Broadford, the gardens sloped downwards and there were a number of pathways leading throughout the gardens, which included secluded areas with ornamental stone seating, all throughout the gardens there were numerous rhododendron and holly bushes.
At the side of the gardens, leading down from the conservatory side of the terrace, there was a pathway that led to a large well kept lawn, surrounded by colourful beds of rose bushes and other flowering flora.
On the other side of the lawn, in the direction of Goudhurst Road amongst somewhat larger trees and decorative bushes was what appeared to be a tennis court, with a terra-cotta coloured surface, and was perhaps used for both tennis and badminton.
The gardens of the manor were tended to and looked after while I was living there by a Mr Large, the gardener who lived nearby at Capel Cross.
The manor gardens were mostly enclosed by a low stone wall, topped by an ornamental wrought iron fence, about six feet high.
The manor was (to me at that time) huge and imposing, with a sense of mystery about it.
The main entrance to manor was fronted by a courtyard, and in this courtyard on either side of the entrance were two tall quite unusual trees. The trees had upwardly pointed scale-like features as bark, and topped like palm trees, I have since ascertained that these were most likely Palmetto palm trees, capable of growing in a temperate climate such as mid-Kent.
At the rear of the manor was a large glass enclosed conservatory, which still contained various (presumably exotic) plants, including miniature orange trees, with oranges on them.
There were two (formal) ways to approach the front entrance to the manor.
One was up Grovehurst Lane from Capel Cross and through the gated entrance on the left of the Northgate house, which approached the manor at an angle on a roadway with pine trees either side, which then turned right through the entrance gate into the front courtyard.
The other and more impressive approach was from the Southgate entrance, on the Goudhurst Road. Once through the Southgate, there was a road, or laneway (somewhat overgrown when I was there) that proceeded toward the manor, with Broadford on the right and the manor high on the left. The road ascended gently upwards and leftwards and eventually turned into a wide roadway leading to the front of the manor. This roadway was (I suppose) the 'grand' entrance, as it was flanked by very large trees, which were not tall but had very thick spreading low limbs, I think they were yew trees.
The front courtyard of the manor led off through an entrance on the right to another courtyard where there was a house in the corner (where I lived at the time), and adjoining this house were horse stables and a building to house the carriages.
I would assume that 'in the day' that house was occupied by the person(s) that took care of the horses and carriages and whatever else.
On the other side of the horse stables was the laneway that led up from the right side of the Northgate house, and was the  'back' entrance to the manor, which was presumably used by trades people and manor staff.
There was to me another interesting side to the manor estate, the impression that it must have been quite self-sufficient in many ways.
On the right side of the back laneway was an extensive area used for growing a large variety of garden vegetables, fruits etc. and was in use for this purpose whilst I was there.
In the centre of this garden facility was a high red brick walled in area, within which various vegetables, and fruits such as gooseberries, red and black currents, strawberries were grown. Also on the South facing walls there were certain species of pear and peach trees that were trained (and constrained) to grow laterally against the walls and were still producing.
One side of this walled in area was bounded by a very large green house, within which lots of tomatoes were grown, there were also some very productive grape vines, both green and black. Around the middle of this walled-in area were glassed in frames for growing cucumbers, herbs etc.
Outside of this latter area there were a lot of other vegetables grown, and off to one side was a quite large apple orchard, with both dessert and cooking varieties.
On the side of the tomato green house was a potting shed, still in use with all kinds of tools and implements from long ago. Also nearby was a blacksmith shed/facility with a fully functioning forge, which was used from time to time for various jobs.
Also when I was there (early on) nearby to the blacksmith facility there was a pig sty, occupied by a sow and a number of piglets.
One could only surmise that this extensive produce garden / operation must have met many of the day to day needs of the estate when originally occupied.
It is also of interest to note that this same, obviously well planned produce garden facility was still being utilised, filling the need for food during wartime, so many years after the original manor occupants were long gone.
Although I was shown around the inside of the manor, twice I think, I don't remember much about the interior, just large empty spaces and rooms. I do remember that there were some kind of lighting fixtures on the walls of the entrance foyer and larger rooms that led me to wonder what was used to produce any lighting.
The house where I lived at the manor did not have either electricity or gas for lighting, just oil lamps or candles.
So, my speculative 'putt' on the manor interior lighting was that it may have been coal gas which was quite extensively used in the late 19th and into the 20th century. This would mean that the manor would have had a means to generate coal gas and a means of distribution to where needed.
Whether this was so, of course I do not know. However, I did find in an overgrown area down from the produce gardens, and at the level of Grovehurst Lane, about mid-way between Capel Cross and the Northgate something of interest.
In this area there were the red brick remnants of what were two circular structures of about twelve feet diameter, quite close together.
Needless to say, we (two of us, 13 yr olds) could not figure out what their purpose might have been. Perhaps what we found may well have been the leftovers of a facility for making and delivering coal gas for lighting.
It would be kind of nice to think that the manor, in its time of occupancy and splendor, was sufficiently illuminated, so as to be seen and appreciated from afar after dark.
In conclusion, I would note that I was very fortunate to have lived at the manor, and will always remember it as it was at that time, and feel privileged to have been able to enjoy its many interesting features.
In addition of course I will always remember and feel indebted to the family, Mr & Mrs Smith and daughter Gertrude, that took me in as an evacuee and provided invaluable guidance and care during those years at the manor.
Ken Jones, Canada 
A big thank-you to Ken form Horsmonden for bringing his wartime recollections to life so vividly.
Eyewitness: Capel Manor experiene 1958/9
Mrs Elaine Herrett writes: I was lucky enough to visit the Manor circa 1958/9 with my friend who lived nearby. The place was empty, but we used to collect a key from a lady living in a nearby cottage (as custodian). We noticed a calendar in the kitchen, which was dated "1926" the year of the General Strike, and we assumed this was the last date the Manor had been occupied.
It was a beautiful place, but sadly falling to ruin, with the gardens overgrown. Is it known why the occupiers/owners deserted it, assumedly in 1926.
It has intrigued me for years, and I have just managed to get two large posters depicting the Manor (in 1904). If you have any information about it please e-mail me.
We have seen a photograph showing Capel Manor cleared of furnitue in 1932 ready for sale by auction in Horsmonden Village Pictures Book, so that seems to fit. Ed.
Matters arising: Austen Family Painting
I am wondering if someone can help me with a research question. I am theresearch assistant to the Assistant Curator of Paintings and Sculpture at the Birmingham Museum of Fine Arts in Birmingham, Alabama in the United States. I am currently researching the provenance of one our Italian paintings in our gallery which was owned in the late 19th and early 20th century by members of the Austen family. I have been unable to find any information on the Austen family using the libraries in the US.
Specifically, I need to confirm that Francis Austen of London was indeed the father of John Francis Austen of Horsmonden, Kent. The painting in question is said to have passed from Francis Austen to Mrs. Austen, I am assuming his widow, and then to John Francis Austen.
If someone can confirm this information for our provenance search, I would be very grateful. I appreciate any bit of information on the Austen family that is available. I noticed from your web-site that there is a book entitled Children of the Weald by Sue Edwards, which sounds as if it may be helpful for tracking Kent families. This book is available in only one US institution, however, and unavailable for loan.
Jennifer Finkel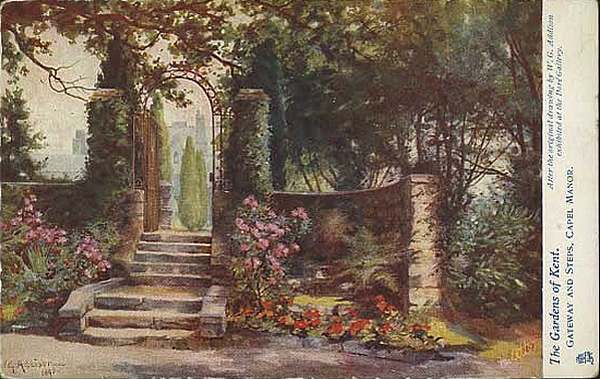 Learn more: Italianate Style
The Italianate style of architecture was a distinct nineteenth-century phase in the history of Classical architecture.
The Italianate style was first developed in Britain about 1802 by John Nash and further developed and popularised by the architect Sir Charles Barry in the 1830s.
Following the completion of Osbourne House in 1851, the style became a popular choice of design for the small mansions built by the new and wealthy industrialists of the era often with gardens laid out in a terrace Tuscan style as well.
An example of vast Italianate architecture is the resort village of Portmeirion, Gwynedd, North Wales famous as a backdrop for the spy series The Prisoner.
For details of the modern house builts at the site of the old Capel Manor see the Capel Manor House page.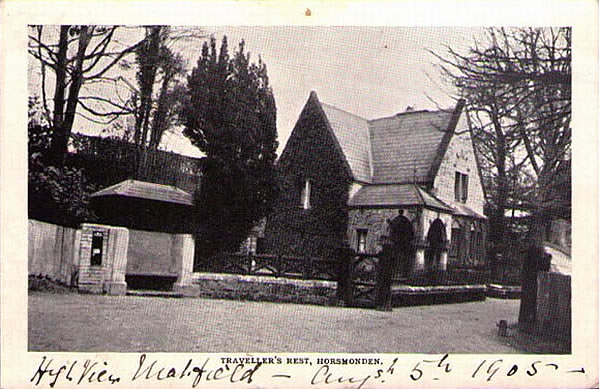 Keyfacts
Built: 1860
Demolished: 1966