Clayton & Shuttleworth 46823, KE 4173, 6/1914, Dusty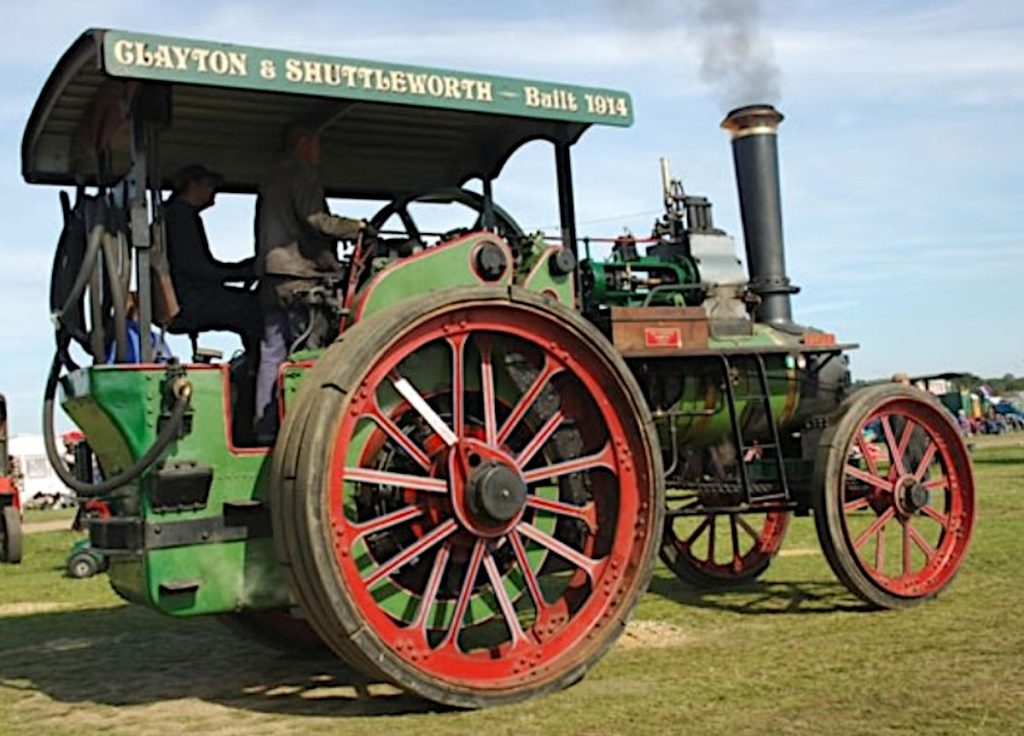 In 1914 Clayton & Shuttleworth from Lincoln produced engine works no 46823, registration KE 4173 type TE, single cyl, 1O-ton engine with a HP7, now known as 'Dusty'.
Dusty spent most of its working life in Kent, many years belonging to Chris Lambert.
On 15th June 1914 KE4173 left the Clayton works and went to work for Terry & Sons of West Malling, Kent. There were two Terry brothers, one ran a quarry where it drove a stone crusher and general haulage work, the other owned a farm where it drove the threshing machine.
In 1926 the engine was sold to Wellband & Son, Threshing Contractors at Castle Farm in Offord, Kent and was the only surviving engine from a fleet of 8.
Chris Lambert took ownership of the engine in 1946 where it drove a saw bench. It is believed the saw bench was that of Woodgate's timber yard which was next to the Lambert yard on the south side of the station oast houses.
During the latter part of the 1950's the engine was owned by D.W. Barham, Rolvenden, Kent where it continued working at a saw mill.
In 1959 it was owned by Stan Wells the butcher from Leigh and sat out of use alongside the railway bridge in the village where repair works were undertaken.
In 1966 Peter Fagg from Leybourne bought the engine with John Naylor and restored the engine into preservation, naming it Dusty.
David R. Stacey of Rochford, Essex took ownership 1979 and in 1990 sold Dusty was sold to Aubrey & Francis Titchmarsh, Forest Gate, London, later of Wickford, Essex.
In 2021 Dan Wood of Oxfordshire became the latest owner of Dusty.
Make: Clayton & Shuttleworth
Engine No: 46823
Regn No: KE 4173
Date: 6/1914
Name: Dusty
Type: TE
Class:
Cyls: Single
HP: 7
Weight: 10 tons