Robert Roland Stanford Tuck
Ace Pilot Tuck baled out with an injury over Horsmonden in 1940
Wing Commander Roland Robert Stanford Tuck DSO, DFC and Two Bars, AFC (1 July 1916 – 5 May 1987) was a British fighter pilot and test pilot. Tuck joined the RAF in 1935. Tuck first engaged in combat during the Battle of France, over Dunkirk, claiming his first victories. In September 1940 he was promoted to Squadron Leader and commanded a Hawker Hurricane squadron. In 1941-1942, Tuck participated in fighter sweeps over northern France. On 28 February 1942, Tuck was hit by anti-aircraft fire and forced landed in France and was taken prisoner. At the time of his capture Tuck had claimed 27 enemy aircraft destroyed, two shared destroyed, six probably destroyed, six damaged and one shared damaged.
Tuck was born of Jewish parents at Catford, SE London. After a less-than-stellar school career he left St Dunstan's College, Catford in 1932 to join the Merchant Navy as a sea cadet before joining the RAF on a short service commission in 1935. Following flying training, Tuck joined 65 Squadron in September 1935 and remained with them until May 1940 when he was posted to 92 Squadron, based at Croydon, as a Flight Commander flying Spitfires.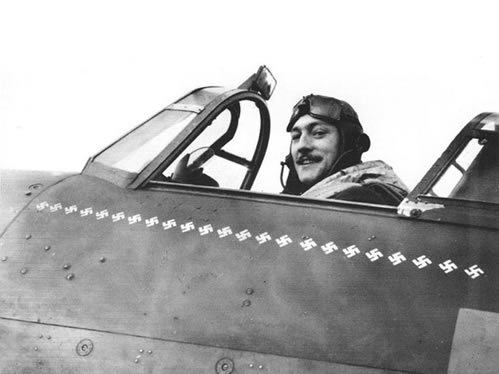 Battle of France
Tuck led his first combat patrol on 23rd May 1940, over Dunkirk, claiming three German fighters shot down. The following day he shot down two German bombers and as aerial fighting intensified over the next two weeks his score rapidly mounted. Tuck was awarded the Distinguished Flying Cross (DFC) on June 11 and received it from King George VI at RAF Hornchurch on June 28.
Battle of Britain
Tuck's combat successes continued into July and August as the Battle of Britain gathered pace, although he himself was forced to bail out on 18th August. While attacking a formation of Junkers Ju-88s over Kent he shot one down and damaged another. However, during the exchange his Spitfire was hit by return fire and he bailed out over Horsmonden. His Spitfire crashed in a hop field off the Lamberhurst Road while Tuck parachuted down at the now known as Tuck's Villas near Park Farm on Maidstone Road, on the estate of Lord Cornwallis, who then invited him to tea!
In another incident on 25 August Tuck's Spitfire was badly damaged during combat with a Dornier Do 17 bomber, which he destroyed, 15 miles off the coast. His aircraft had a dead engine but he glided it back to dry land to make a forced landing.
On 11 September, during the height of the Battle of Britain, Tuck was promoted to Squadron Leader and posted to command the Hawker Hurricane-equipped No. 257 Squadron RAF, based at RAF Coltishall. He led his squadron into combat through September and continued to claim further victories. His last two official victories of the Battle were on 28th October, where he claimed two 'probable' Messerschmitt Bf 109s.
He received a Bar to his DFC on 25 October, and the Distinguished Service Order (DSO) in January 1941. In March 1941, he was awarded a second Bar to his DFC, and in June he survived being shot down over the English Channel, being rescued by a Gravesend coal barge. Tuck claimed a total of seven destroyed, four probables and two damaged on the Hawker Hurricane.
Extaordinary poor fortune
He had an extraordinary piece of ill-fortune when he intercepted a German bomber heading towards Cardiff. He fired at extreme range in poor light, causing it to jettison its bombs in open countryside instead of on the city. The last of its stick of bombs caught one corner of an army training camp and killed one soldier. The soldier was the husband of Tuck's sister.
RAF Duxford
In July, 1941, Tuck was promoted to Wing Commander and appointed Wing Leader at RAF Duxford where he led fighter sweeps into northern France. After a brief trip to America with several other RAF Fighter Command pilots to raise awareness of Britain's war effort, he returned to a posting at RAF Biggin Hill as Wing Leader. It was while flying from Biggin Hill Tuck's last aerial combat of the war occurred. On 28 January 1942, while on a low-level fighter sweep "Rhubarb" mission over northern France, his Spitfire was hit by enemy ground-based flak near Boulogne and he was forced to crash land.
Captured by the very German troops he had been firing upon as his aircraft was hit, Tuck then spent the next couple of years in Stalag Luft III at Żagań (Sagan), before making a number of unsuccessful escape attempts from several other prisoner of war camps across Germany and Poland. In company with a Polish pilot, he finally escaped successfully on 1 February 1945 as his camp was being evacuated westwards from Russian forces advancing into Germany. Tuck's Russian, learned from his childhood nanny, was now crucial as he spent some time fighting alongside the Russian troops until he managed eventually to find his way to the British Embassy in Moscow. He eventually boarded a ship from Russia to Southampton, England.
Post-war days
With the war now over, he received his final decoration, a Distinguished Flying Cross from the United States Air Force on 14 June 1946, before he finally retired from the RAF and active service on 13 May 1949 as a Wing Commander. His final accredited aerial kills numbered 27 and two shared destroyed, one and 1 shared unconfirmed destroyed, six probables and six and one shared damaged.

Flt. Lt. Stanford Tuck's account of the Horsmonden incident

"Spotted two Ju 88's that had passed over me at 15,000ft, heading SSW or S. I turned on them and gave chase. As there was no cloud, the two E/A put down their noses and went straight onto the surface of the water."
"I flew straight ahead of them as fast as possible and then turned head-on and fired at the No.2 E/A. After passing close over the top of the E/A and pulling straight up, I observed that he had gone straight into the water with a terrific splash and disappeared. Up until this time I had only been hit in the wings and through the left side of the perspex on the windscreen."
"I then flew straight ahead again to attack the E/A that was left. Just when I had opened fire on this head-on attack, I saw a large greeny bluish flash from the nose of the Ju 88. Immediately following this, there was a loud crash on the underneath front of my aircraft. This seemed to tip my tail up and I thought I should hit the water. However, I pulled straight up and left the Ju 88 heading off on the same course, leaving a trail of oil on the water. I was now approximately 35-40 miles off Beachy Head at 4,000ft. My aircraft must have been badly damaged, as there was excessive engine vibration and glycol and oil temperatures were very high.
"I managed to reach the coast, but dense fumes were coming from the engine and under the dashboard. I could feel myself being overcome by these fumes, so I decided to abandon my aircraft. Jumped clear at 800ft. Could not say whether my aircraft was straight and level or not, as fumes had blinded me. My aircraft landed 1/2 mile away from me in a wood and did no damage."
Kent County Squadron
The origins of the Kent County Squadron idea began back in August 1940, when no less a person than Bob Stanford Tuck brought down his shot-up aircraft to a forced landing near Lord Cornwallis's home at Plovers, Horsmonden. Next morning, Cornwallis said to Tuck that he had just received a cheque for £5,000 from a Mr Stanley Johnson of Bearstead, which he was going to earmark towards a new Spitfire. There followed an appeal to everyone in Kent for money to form an Invicta Flight of Spitfires. Within a short space of time, no less than £29,370 had been sent in for the County of Kent Fund. The first three Spitfires purchased with this money were named MAN OF KENT, KENTISH MAN and FAIR MAID OF KENT.
W/Cdr Sammy Sampson, former Flight Commander in No. 131 (County of Kent) Squadron