Model of Horsmonden Station locale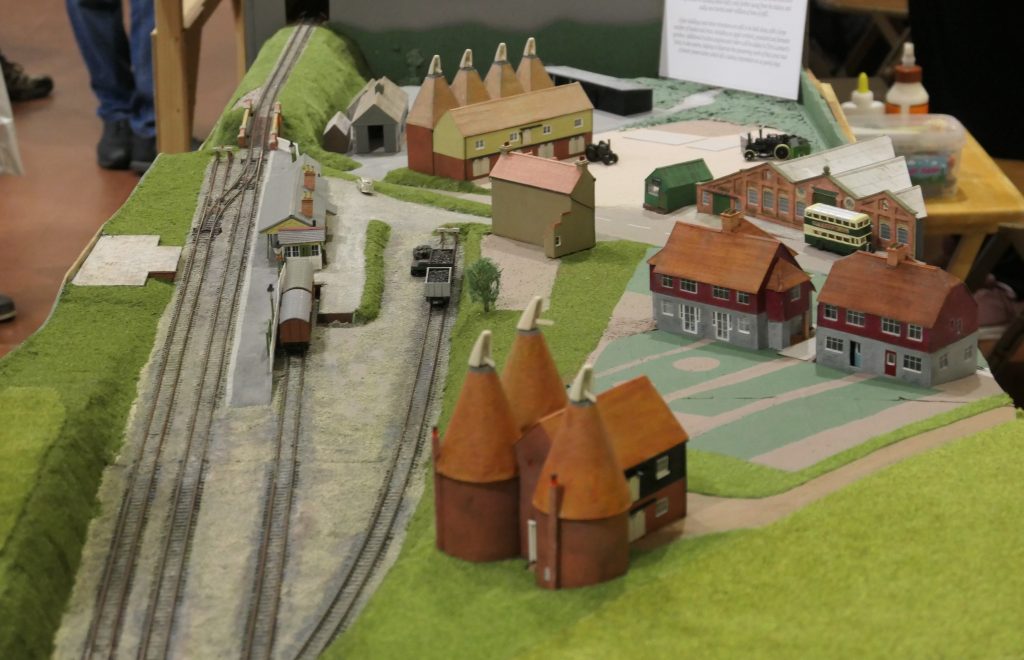 Horsmonden Station brought back to life in miniature by Chris Cooper
The idea to model the area around Horsmonden Station stems from my memories as a young boy walking to and from school past the station and through the adjacent atmospheric traction engine yard.
The sight, sound and aroma of a road roller or traction engine had a profound effect and the occasional trip by train to visit relatives in London added another dimension to the love of steam transport.
The decision was made in the early 2000's to look at the feasibility of building a working layout featuring the railway station and surrounding buildings.
Lambert's traction engine yard would be an important feature, along with the oast houses and old foundry building which was being used by Boddingtons as a factory for manufacturing plastic components.
Other buildings were a vague memory and a reconnaissance visit confirmed that things had drastically changed so it was imperative to photograph what was left for future reference.
The available space to construct the layout dictated the final design and where possible everything was laid out to a map of the area to maintain the correct positioning of the buildings and landscape.
Modellers licence has been exercised by bringing the iconic Sandy Lane bridge closer to the station in order to create an interesting end to the scenic section.
Throughout the build, which is still work in progress, reference is continually made to photographs and publications but especially Brian Hart's book 'The Hawkhurst Branch' which has been the bible for the project.
Research is ongoing and new material is becoming available with help from a variety of sources and memories from local people.
The scale is British N Gauge which is approximately 2mm to 1ft.
Because of the uniqueness of the original buildings everything has been scratch built using available modelling materials plus recycled card, wood and various plastic objects.
Many vehicles are available in this scale to compliment railway rolling stock and locomotives but again, some of these require modification and repainting to represent the prototype.
Much work has yet to be completed and the fine detail will be added as things progress. Landscaping and making trees and bushes to populate the wooded areas will be a major task.
A large apple orchard is planned with the trees in blossom, which used to bring an annual pilgrimage of motorists who followed the AA or RAC signs around Kent on the Orchard Tours.
On completion, it's hoped that the model will serve as a three-dimensional historical documentation of life around the railway station during the 1950's for future generations to see.
Chris Cooper