1638 Small Bronze Cannons Tower of London
Five training guns in the Tower of London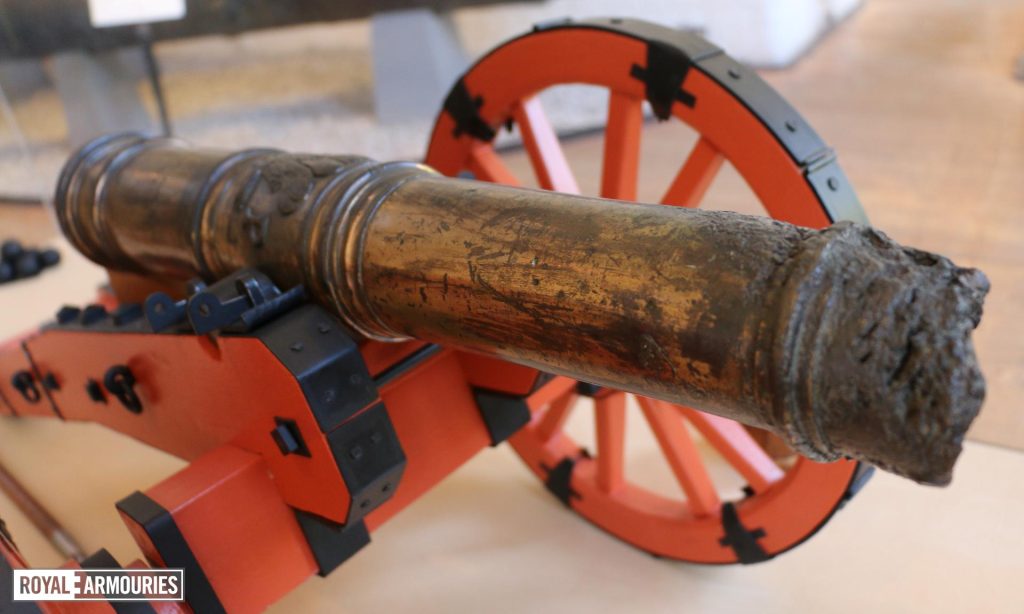 The armouries of the Tower of London have a total of seven cannons made in Horsmonden. There are two large brass cannons made for Charles I and five small training cannons made for his son, the Prince of Wales who became Charles II. All of them were cast in 1638 and were cast in the presence of Charles I's visit to Horsmonden on the 5th October that year.
Five Small Bronze Cannons
The Tower holds the remaining pieces of a set of small bronze cannon, originally fifteen in number, made for Charles II when a boy, the Prince of Wales. Of the ten remaining, half were made by John Browne in 1638 and the other half by Thomas Pitt.
The gun is inscribed with the badge of the Prince of Wales – crown with three feathers and motto "Ich Dien" (I Serve) flanked with the letters C and P (Caroulus Princeps). Also inscribed with "John Browne made this peece 1638".
The Prince of Wales had ten of these guns in total, five made by John Browne and five made by Thomas Pitt.
Keyfacts
Founder: John Browne
Type: Brass Gun
Cast: 1638
Material: Brass
Calibre: 1.3″ (33mm)
Weight: n/a
Shot: n/a
Distinctive markings: Inscriptions of the badge of the Prince of Wales and "John Browne made this peece 1638"
Current location: Tower of London White Tower
ID: XIX.24-28
Notes from the Royal Armoury
Half a battery of ten similar guns made for Prince Charles, later Charles II; five by John Browne 1638 (XIX.24-28) and five by Thomas Pitt 1639 (XIX.29-33). The 1750 Guide described them as:
'A small Train of ten Pieces of pretty little Cannon, neatly mounted on proper Carriages, being a Present from the Foundry of London to King Charles I when a child, to practise the Art of Gunnery with'.
During the 1841 fire all the original carriages were destroyed and the muzzle of XIX.28 was badly damaged. John Brown, the son of Thomas Browne and father of John II and George. In 1614 granted a monopoly of casting brass and iron guns for the Navy. Appointed Royal Gunfounder in 1618. During the Civil War he was compelled by force of circumstances to become gunfounder to Parliament. Buried in St. Margaret's Church Horsmonden, Kent.
Useful Links
Further Reading
The Armouries of the Tower of London: Ordnance Vol 1 by H.L. Blackmore
Comprehensive guide to the ordnance of the Tower. The John Browne cannons are covered in this book.