1637 or 1640 Demi-Culverin Drake Bermuda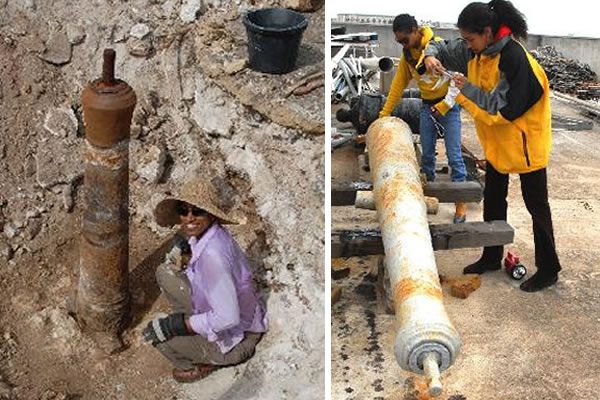 Charles I cannon found in the Dockyard in Bermuda
In a number of places about Bermuda, obsolete cannon were recycled as dock bollards, mooring weights and pivots, the last for new guns. One such cannon pivot was unearthed at Bastion 'I' at the southern end of the Northwest Rampart connecting the Commissioner's House to the Casemate Barracks.
During cleaning by the Bermuda National Museum conservator, Bindiya Bhatnagar, the 'Tudor Rose and Crown' Royal Cypher and the initials C and R, for Charles Rex were found.
The emblems indicate thate the cannon was made for Charles I, who reigned during some of the early decades of the settlement of Bermuda – the 400th year anniversary was in 2009. During his reign (1625-1649) some of the first born-Bermudians would have come to maturity.
The number 24 was cut into the gun near the Royal Cypher.
Charles Trollope, an historic artillery expert was called upon and wrote as follows:
"The gun is a Demi-Culverin Drake (firing a nine-pound cannonball) of eight foot and is one of either eight guns cast in 1637 or two cast in 1640. The term 'Drake' refers to the shape of the chamber, which is in the form of a truncated cone. The shape of the button and the indented ring at the end of the second reinforce identify the caster as John Brown. The weight will be about 17-3-00 and the gun cast of 'Fine Metal'. I am only aware of Charles I guns having the addition of C R to the Rose and Crown."
"The Number 24 refers to the gun's position in the ship's battery, so the vessel was of some size. The most likely ship is HMS Lion (42 guns) rebuilt and enlarged in 1640 and therefore needing a few extra guns. So far your Charles I gun is the first to come to light, but never say never!"
A replica carriage for this unique piece of international heritage will be built. The cannon will be placed on it on permanent display in the Bermuda Military Exhibit in the Commissioner's House. Any update on this would be appreciated.
Keyfacts
Type: Demi-Culverin Drake
Gunfounder: John Browne
Cast: 1637 or 1640
Material: Fine Metal
Weight: 17-3-00
Shot: 9 pound
Distinctive markings: C R plus Rose and Crown and number 24
Ship: HMS Lion possibly
Discovered: Bermuda Dockyard 2009
Current Location: Bermuda Military Exhibit in the Commissioner's House
Photos: Edward Harris
Map
Useful Links