1590s Minion Cannon Sluis The Netherlands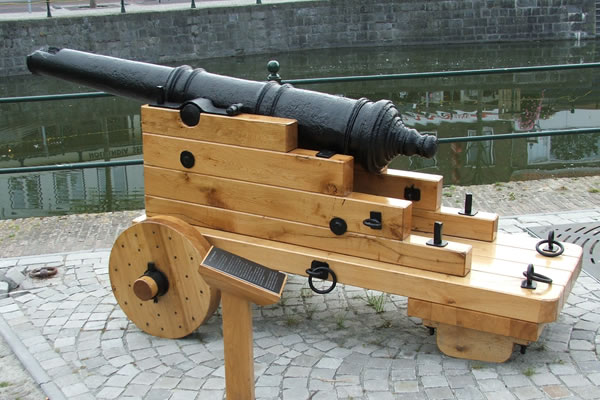 Thomas Johnson Minion Gun found in old harbour at Sluis in The Netherlands
One of Thomas Johnson's cannons was excavated in Sluis, a former harbour on the Flemish-Dutch coast. After the cannon was cleaned the marking TI could read, the initials of Thomas Johnson of Horsmonden, Gunfounder to the Queen Elizabeth.
It was was a Minion (4 pounds) sold to the Dutch and was used on a warship.
The site where the cannon was found was at the end of the 16th century harbour of Sluis. The cannon may have been thrown in the water because the mount was broken and rendered it unusable.

Keyfacts
Type: Minion
Cast: 1590s
Founder: Thomas Johnson of Horsmonden
Material: Cast Iron
Weight: n/a
Shot: 4 pounds
Destinctive markings: TI initials
Ship: n/a
Discovered: Sluis, The Netherlands circa 1995
Current Location: Sluis Harbour
The reconstruction of the bearer was made by the local council of Sluis. The cannon was festively inaugurated with a in 2004.
The image below shows the inauguration of the Thomas Johnson Minion. It was combined with the commemoration of the first Moroccan-Dutch marriage in the Netherlands, 400 years ago with the woman born in Sluis – hence the Arabian costumes.

Map
Learn more: Sluis
Sluis is a town located in the west of Zeelandic Flanders, in the south-western part of the Netherlands.
Sluys is an old place and was an important harbour during the late Flemish and Bourgondian period (14th-15th century). The English and Flemish defeated the French near Sluys in 1340 one of the opening conflicts of the Hundred Years' War.
At Sluys, the French gathered in 1385 a vast invasion fleet for England but all ships were eventually seen off.
In 1587 a small English garrison helped defend Sluis against the Spaniards. During the latter part of Second World War on October 1944, Sluis was completely destroyed. Some old buildings have been restored – for instance the belfry, but most of the town today is new. Nevertheless, Sluis continues to be a popular tourist destination with some 3½ million tourists visiting Sluis every year.
Sluis looks forward to your visit!
Acknowledgements
Many thanks to local historian Arco Willebordse for detailed information and photographs.
Useful Links
Sluis on Google Maps
Go to the Harbour and Street View