Gathering in the hop harvest in September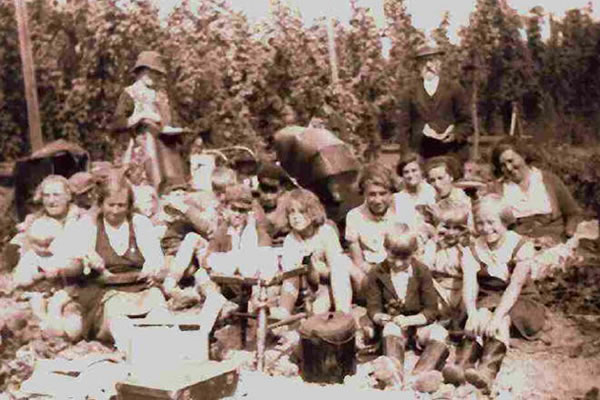 Every September when the hops were ready to be picked, farmers would write to workers – usually women and children who didn't have permanent jobs, in Kent, London, Sussex and East Anglia. They were invited to come down to Horsmonden and Kent, stay in huts on the farm and work in the hop gardens for about 6 weeks.
For many Victorian Londoners this was seen as a holiday in the country, away from the dirty and polluted city. The same families would come 'hopping down in Kent' year after year.
Eyewitness Kahleen Pearson
I have many very fond memories of the annual hop-picking 'holidays' made by myself and the whole of my extended family. Although it was a working holiday for the adults, for us kids it was a holiday and we used to roam far and wide.
One of our rituals was to place some hops on the grave of the German airman who was buried in the churchyard. I do not remember whether there was a name on his grave. I do know that on one of my many return visits to the churchyard his grave was no longer there. I assumed he was 're-patrioted'. Who was he and were his remains claimed by his family?
I would be interested in hearing the memories of anyone who made the annual pilgramage to Horsmonden for the hop-picking, and dare I say it, apple scrumping. Whether or not it was because it was forbidden fruit, I have never since tasted apples or plums like those we used to scrump. We did not nick many fruits, honest!
Kahleen Pearson