Coronavirus (COVID-19): Current Status & Government Requirements
See below for: Updates / Get Help / NEW: Food and Drink Deliveries
Stay alert
We can all help control the virus if we all stay alert. This means you must:
stay at home as much as possible
work from home if you can
limit contact with other people
keep your distance if you go out (2 metres apart where possible)
wash your hands regularly
Do not leave home if you or anyone in your household has symptoms.
LOCAL SUPPORT & RESOURCES UPDATE
Heath Stores
Delivery slots available next day for Horsmonden or once a week further afield. Fresh fruit and veg, fresh meat, all groceries, household, toiletries, chilled, frozen, pet food, alcohol and tobacco.
We post a video every other day on Facebook with a walk through of the shop to keep you updated on stock available.
Anyone can use our service not just the vulnerable and those shielding. Please go to our website for an online order form and to open an account if you don't already have one.
Shop is still open 8am to 1pm Monday to Friday. 9am to 1pm Saturday and 9am to 12pm Sunday (closed Easter Sunday except for newspaper deliveries) 5 people allowed in the shop at any one time.
www.heathstores.co.uk/order-form.php
Heath Pharmacy
Ola and his team have introduced a 10am opening time each day with the usual lunchtime 1pm to 2pm closure. There is an unprecedented demand on their services and they are doing their absolute best to continue to meet the growing needs of the community at large whilst providing a safe and efficient process.
Social distancing applies in the shop with a restriction to two people at any one time plus the usual 2 meter gap between each person. If you or someone you know cannot collect prescriptions in person due to self-isolation or social distancing, the volunteer group. SEE BELOW
Need some help?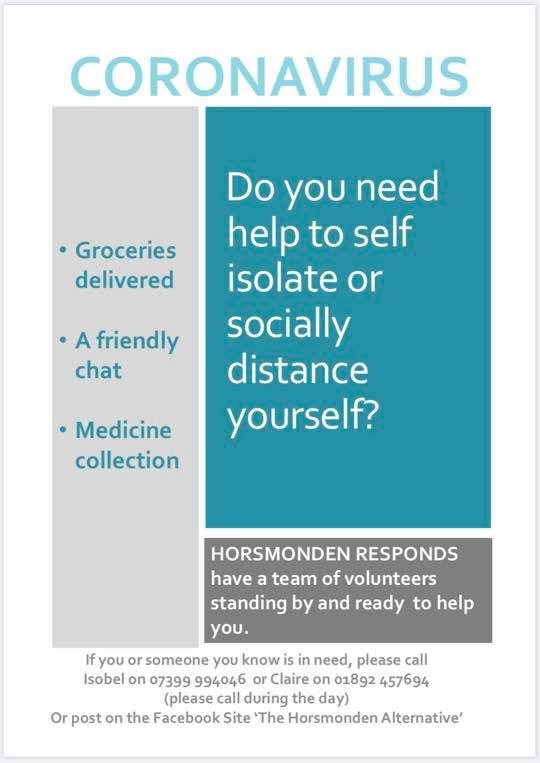 Telephone Buddies
Helping prevent feelings of isolation and loneliness for anyone living in Horsmonden who needs to self-isolate or is simply alone due to staying at home. There is a team of buddies who will ring people, hopefully twice a day, to chat with those who are isolated. Run by St Margaret's Church
Contact: The Rectors Revds Tim and Trish Ffrench 01892 723055 or email: revsffrench@gmail.com Facebook
Horsmonden Facebook Page
Connect with over 3,200 people locally. Facebook or chat about Horsmonden Nostalgia.